Whether your application involves displays, buttons, wires, batteries, full devices, or microelectronic components and assemblies such as printed circuit boards and chips, Instron offers a wide range of testing accessories for performing tensile, compression, bend, peel, and shear tests.
Tensile Grips
Instron offers a variety of grips suitable for performing tensile tests on a wide range of electronic devices and microelectronic components and assemblies including leads, wires, and irregularly shaped products. Select tensile grips have jaw faces that can be offset, allowing you to perform lap shear tests on bonded components.
Pneumatic Side Action Tensile Grips

Screw Side Action Tensile Grips

Micro Pneumatic Side Action Tensile Grips
Flexure Fixtures
Three and four point bend fixtures are used to characterize the flexural strength of electronic devices, components, and miniature components found in microelectronics. In addition to the fixtures listed below, Instron also manufactures a variety of larger bend fixtures with wider spans for testing displays and devices.
4 Point Bend Fixture to JEDEC 9702

3 & 4 Point Bend Fixture for Glass Testing

Miniature 3 Point Bend Fixture Optional 4 Point Anvil

Micro 3 Point Bend Fixture

High Precision Micro 3 Point Bend Fixture to SEMI G86-0303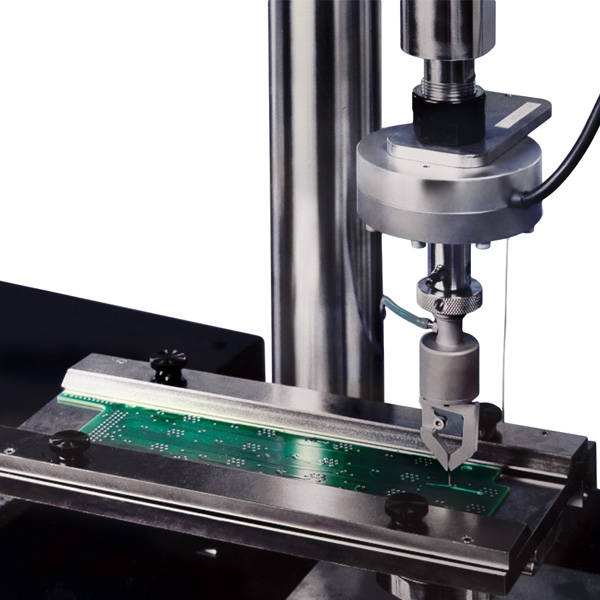 Adhesive Test Fixtures
Adhesive test fixtures, including peel and stud pull fixtures, are used for testing the adhesive bond strength of a wide range of laminated materials and components such as copper runners on printed circuit boards, thin film coatings, adhesive tapes, semiconductor dies, and other bonded structures.
Variable Angle Peel Fixture

Miniature 90 Degree Peel Fixture

Miniature Variable Angle Peel Fixture

Stud Pull Fixture Specimen Preparation Fixture for Stud Pull Tests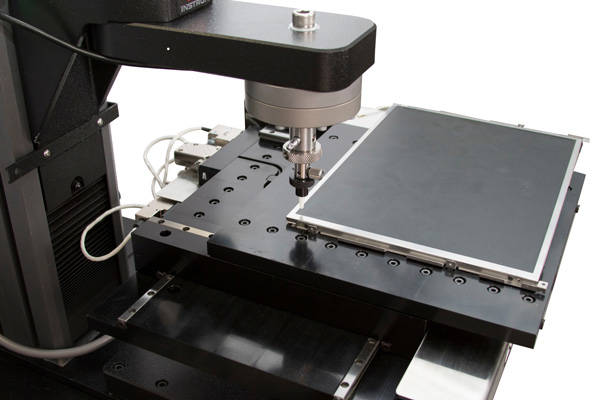 Automated XY Testing Systems
Automated XY Stages are designed for automated compression, flex, and tensile testing of multiple specimens in a single test run or devices and components with multiple test points. Commonly used for testing electronic devices or components, display panels, buttons, etc, these systems are available for 6800 Series universal testing systems (static testing applications) and ElectroPuls™ dynamic and fatigue testing systems (static and durability testing applications).
Automated XY Stage for Universal Testing Systems

Automated XY Stage for ElectroPuls Systems
Low Capacity Load Cells
To ensure that your test results are of the highest quality, Instron designs and manufactures all of our own load cells. Instron load cells are carefully engineered to meet the unique requirements of materials testing systems, including high accuracy over a wide measurement range, high stiffness, resistance to offset loads, accurate alignment, and excellent zero stability. For electronics and microelectronics testing, we offer a wide range of low capacity load cells suitable for testing at low forces.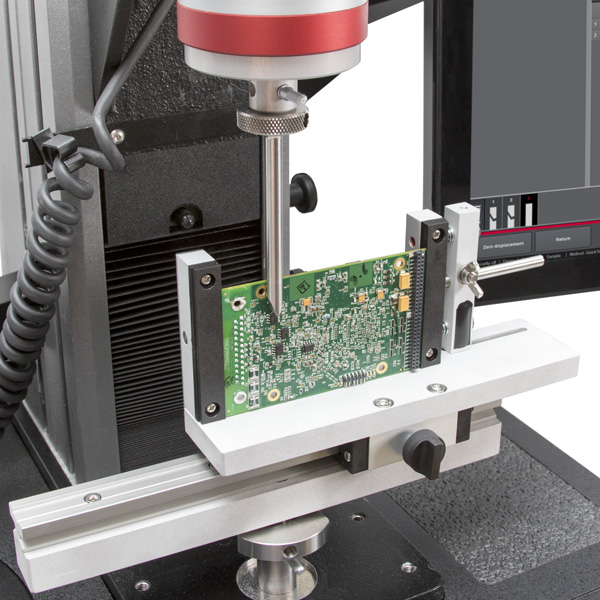 Shear Testing Fixtures
Die and package shear test fixtures are designed to determine the integrity of the connection between a semiconductor die or surface mounted passive elements to package headers or other substrates. These fixtures are used to measure the shear force required to initiate failure of glue, solder, sintered silver, or other bonding agent in accordance with various testing standards, such as MIL STD 883, IPC TM-650, AEC-Q200-006A, or ASTM F1269-13.
Terminal Strength Shear Fixture

Shear Test Fixture to MIL STD 883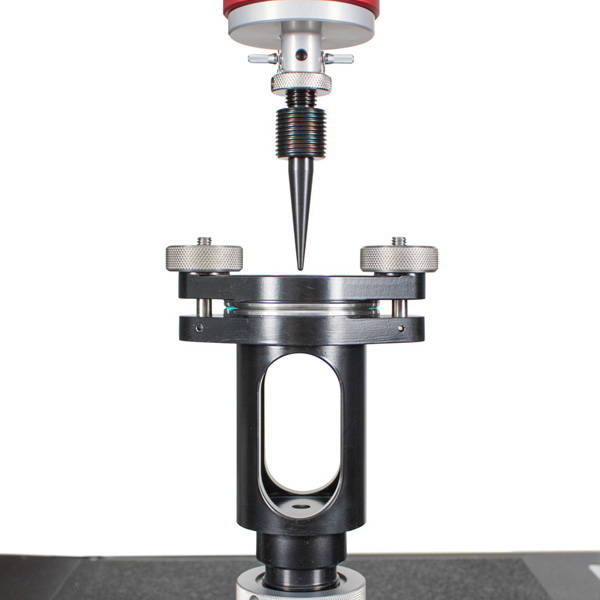 Puncture Test Fixtures
Burst or puncture fixtures are commonly used to test packaging, fabrics, and thin films and separator films found in batteries to determine the resistance of a material to the penetration of a probe. The material is typically held by a set of clamping rings, and undergoes biaxial stresses representative of those encountered during actual use.
Puncture Test Fixture to EN 14477 Includes Two Probes with 0.8 mm Diameter 1 mm Diameter Probe with 0.5 mm Radius

Puncture Test Fixture to ASTM F1306

Ball Burst Compression Fixture
Probes and Chucks
A variety of probes are available for performing compression tests on buttons, displays, and other electronic and microelectronic components. These probes are easily added to the testing system with our three-jaw chuck fixture.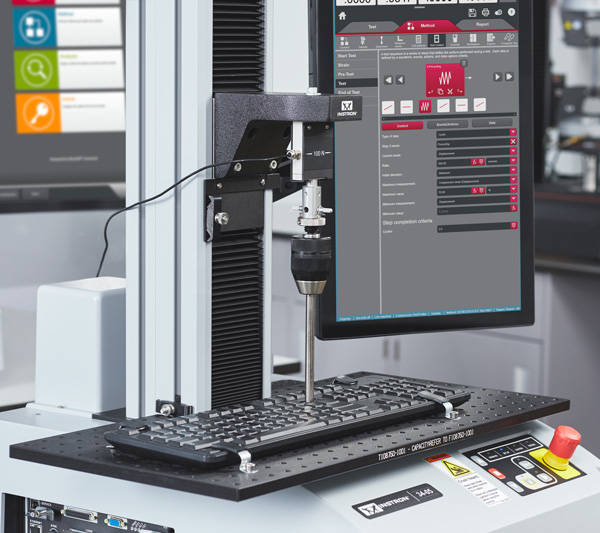 Component Test Plate
The component test plate is a large plate with an array of tapped holes that is useful for securing difficult-to-test components for a variety of tensile, compression, peel or other testing.
Translation and Clamping Stages
Translation and clamping stages are used to precisely position and align a test specimen below the actuator. These are commonly used for securely positioning microelectronic circuit boards and components within the testing system.
Torsion Add-On
Designed for simple, simultaneous or independent axial and torsional testing, the Torsion Add-On 3.0 increases the capabilities of your lab – allowing you to expand product development capabilities and simulate real-world applications of your products. It's perfect for testing the performance of flexible electronics, components, buttons, wires, and more.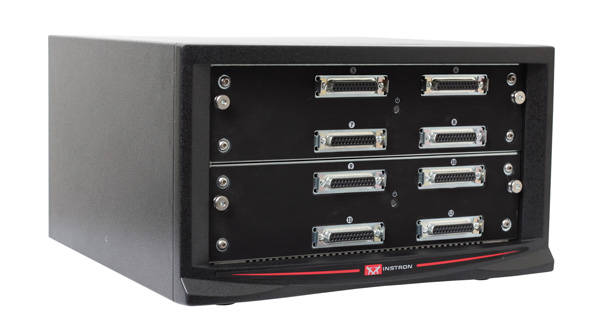 Digital Controller Accessories
Digital I/O boards and expansion channels can be added to universal testing frames to help interface with external equipment and measuring devices, such as voltage measuring devices.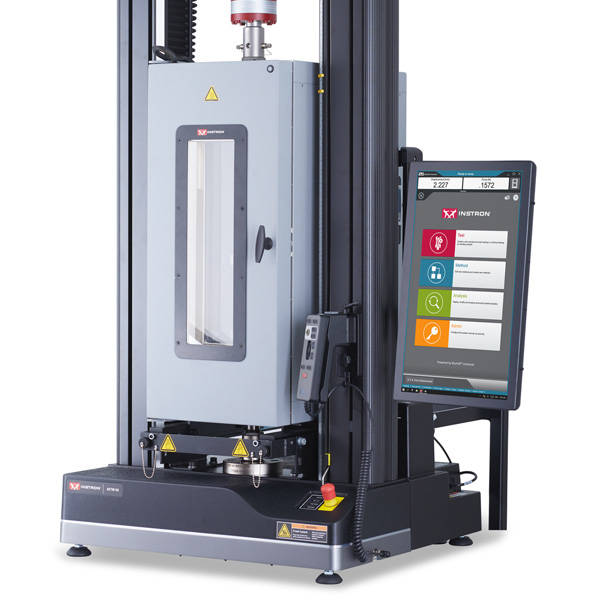 Environmental Chambers
Many electronic devices and microelectronic components are expected to withstand extreme temperatures both during the assembly process and in normal use. With an environmental chamber, you can characterize the performance of your products under a wide range of temperature conditions ranging from -100 °C to +350 °C.
Extra Wide Universal Testing Systems
The height and width of the 6800 Series table model systems can be customized to fit specific application requirements. Extra wide frames are typically preferred for testing large displays, full-sized laptops, and electronic packaging materials such as foam and plastic. The extra wide frames can also be equipped with an automated XY stage for testing larger devices, such as full-sized keyboards.