Strain measurement is a key component of mechanical testing and is required by nearly all relevant ASTM and ISO standards. Instron offers a wide range of strain measurement devices to suit every material and application. From simple bonded strain gauges to the most advanced video extensometry, all of our devices are designed and manufactured by Instron engineers to meet our own stringent accuracy standards. If your testing application requires a creative solution, our Custom Engineering Group is available to design and implement a strain measurement solution that meets your needs.
STRAIN MEASUREMENT DEVICES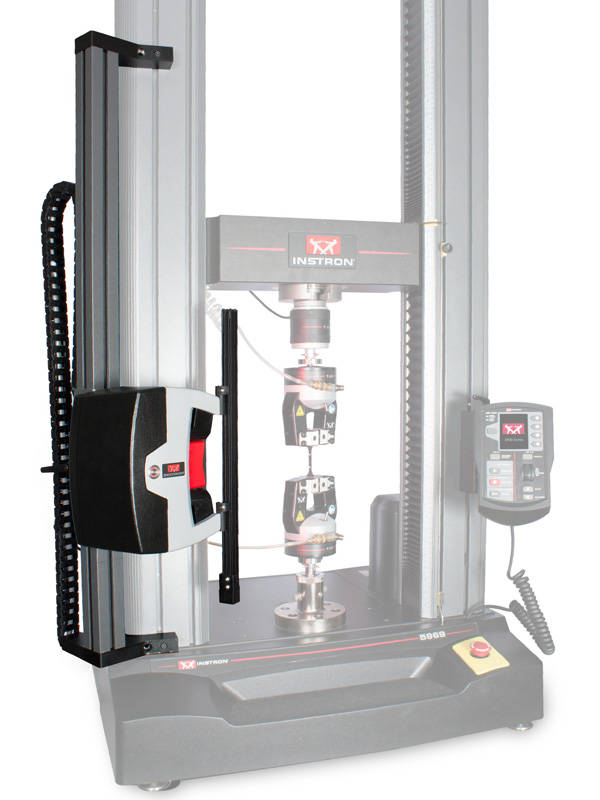 Non-Contacting Video
A video extensometer is a non-contacting extensometer that can measure deformation by tracking the movement of two attached markers on the specimen, using high-resolution digital camera technology. Key advantages of video extensometers are that they do not exhibit any influence on the test specimen, problems with knife-edge slippage are eliminated, and errors due to inertia of moving parts is also eliminated.
Travel : GL: > 5, 10 mm, 60 mm, 200 mm, 500 mm

Temperature Range : Can be used with a chamber and bath

Automatic or Manual : Automatic

Suitable For : Almost every material

Common Standards : Conforms to the most rigorous testing standards, including ISO 527 and ASTM D638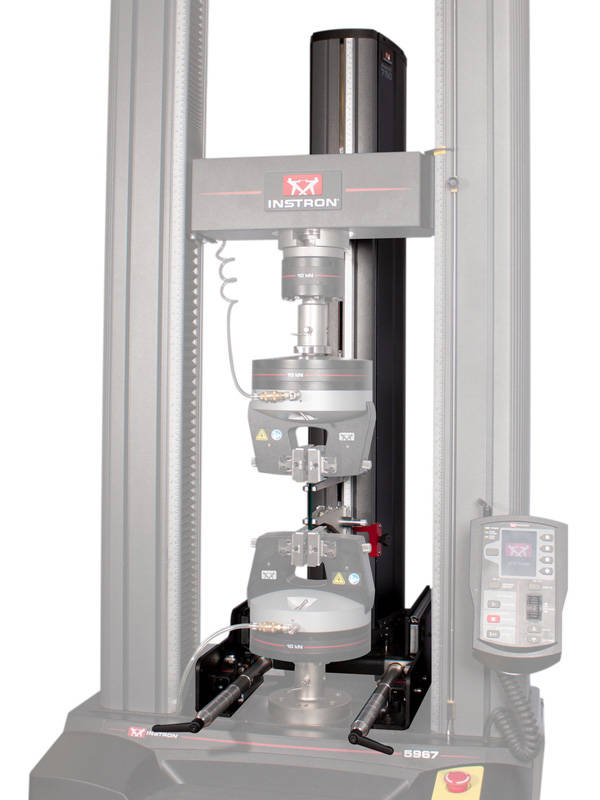 Automatic Contacting
The need for increased specimen throughput has created a demand for faster, more reliable, and more accurate materials testing routines. Automatic contacting extensometers provide this capability by enhancing the productivity of testing laboratories that can take advantage of the automatic gauge length positioning feature, as well as the automatic attachment to the test specimen.
Travel : GL: > 10 mm 750 mm

Temperature Range : Ambient (10° to 38° C)

Automatic or Manual : Automatic

Suitable For : Static clip-on extensometers are used for static strain measurement on a wide range of materials and specimens including metals, plastics, and composites

Common Standards : ASTM D638, ISO 527-2, ASTM E8, ISO 6892, ASTM D3039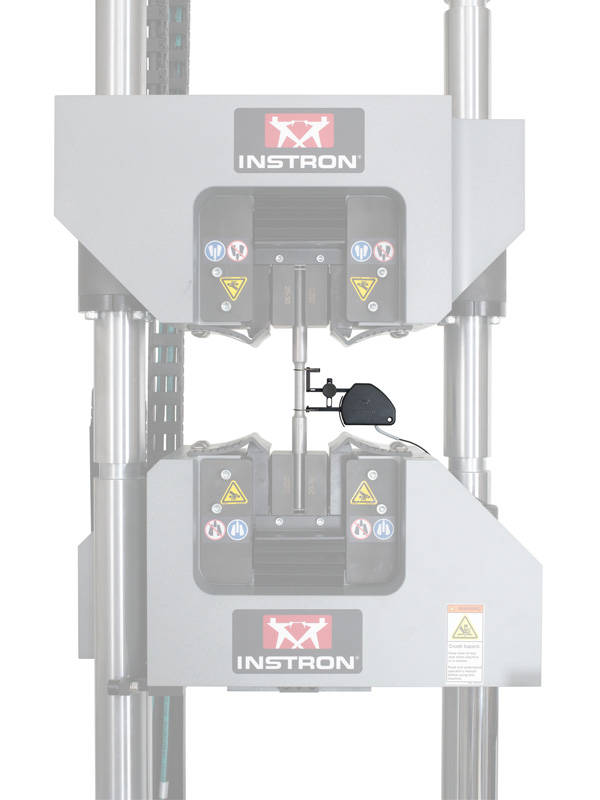 Static Axial Clip-On
Clip-on extensometers for static testing offer speed of attachment and ease of use. Their light-weight, rugged cross brace design eliminates errors caused by physical distortion, while built-in protection ensures that damage is not caused by over-extension. The low operating-force arms of the extensometer reduce the possibility of knife-edge slippage when testing hard or smooth surfaced materials.
Travel : Wide variety of selections

Temperature Range : -80° to 200° C

Automatic or Manual : Manual

Suitable For : Dynamic clip-on extensometers are used for cyclic strain measurement in tension, compression or reverse-stress through zero measurements on a wide range of materials and components including metals, plastics, and composites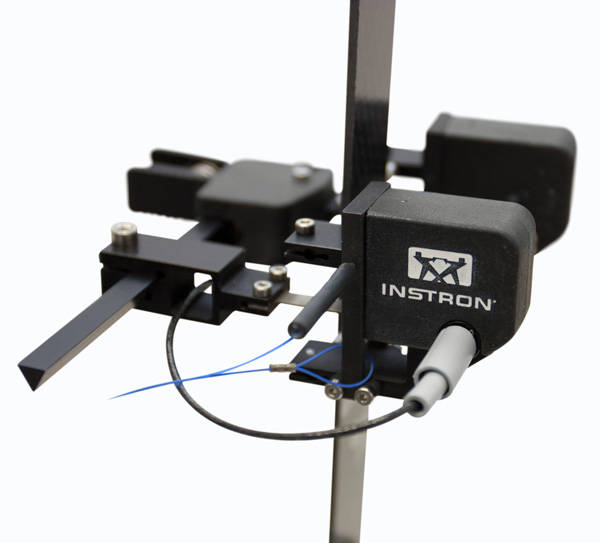 Averaging Axial and Biaxial
Averaging axial and biaxial extensometers are used for testing advanced composites, rigid plastics, and metals. Average axial strain is determined from independent strain measurements on opposite sides of the specimen. The use of average strain eliminates errors due to specimen bending and allows the determination of precise modulus values. By integrating a transverse strain transducer, the extensometer can simultaneously measure average axial and transverse strain allowing the determination of Poisson's ratio. Generally, this type of extensometer is intended for measuring small strains such as those used for the determination of elastic properties.
Travel : GL: 25 / 50 mm Axial travel: 1.25 mm Transverse travel: 0.5 mm (biaxial versions)

Temperature Range : -200° to 200° C

Automatic or Manual : Manual

Suitable For : Static tests to determine elastic properties (modulus and Poisson's ratio) of composites, rigid plastics, and metals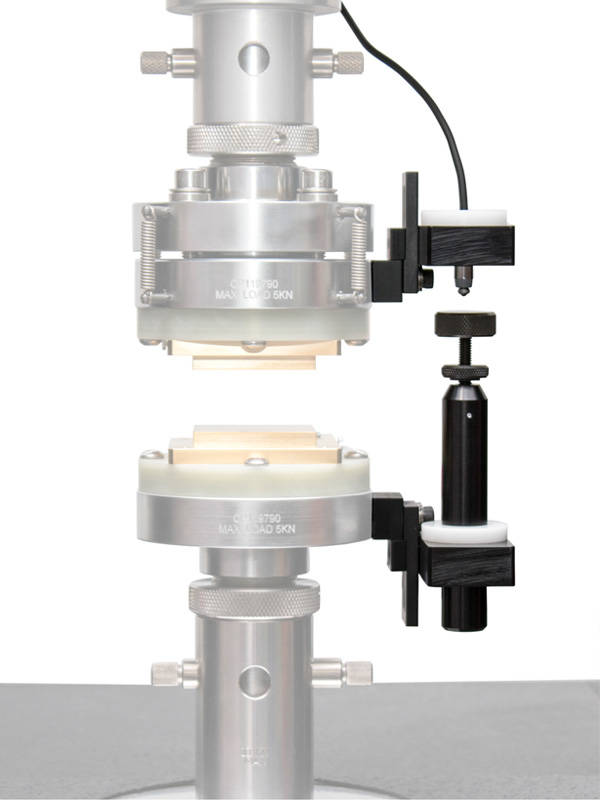 LVDT
Linear variable differential transformer (LVDT) displacement transducers are measuring devices that measure the displacement of the load frames of materials testing systems. They feature an LVDT as the active element, and are designed for use on both electromechanical and hydraulic testing systems.
Temperature Range : -40° to 100° C

Automatic or Manual : Manual

Suitable For : Almost all materials – dependent on travel

Common Standards : ISO 178, ASTM D1621, ASTM D575-91, ASTM A370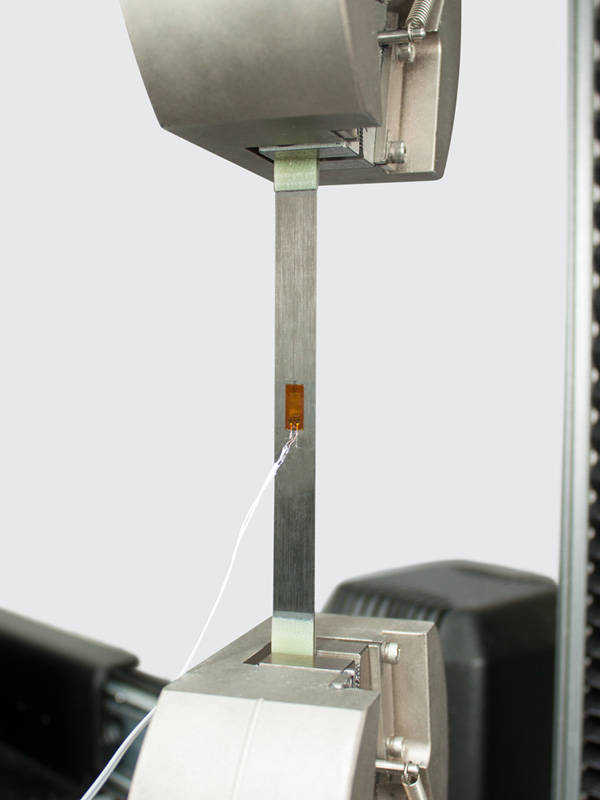 Bonded Strain Gauge Adapters
From aerospace to construction, strain gauges are used in a variety of industries to measure strain in both materials and structural testing. Instron strain gauge adapters allow a single strain gauge to be used with any standard Instron strain channel.
Gauge Resistance : 120 ohm and 350 ohm models available

Gauge Factor : 1.5 to 2.5

Full Scale Strain : 50,000 με / 5%

Strain Gauge Connections : Spring-loaded terminals

Controller Connection : Instron standard 25-way connector
High-Temperature
High temperature extensometers use capacitive, strain gauge and LVDT technologies to measure strain. These contacting devices are designed to accommodate a wide variety of materials and temperature ranges and integrate seamlessly with our range of environmental chambers and furnaces.
Flexural Deflectometers
The deflectometer on its own is not a strain measuring device – it is simply a spring loaded plunger that is used in conjunction with an extensometer, whether it be a clip-on, an automatic contacting extensometer (AutoX750), or a video extensometer (AVE 2). It is primarily used for flexural tests.
Crack Opening Displacement Gauges
Crack opening displacement (COD) transducers are designed specifically to perform standard ASTM and ISO fracture mechanics tests (both cyclic and static), covering all common specimen geometries (CT, SEB, Centre Crack, Arc Shaped).
Transverse Clip-Ons
Transverse clip-on extensometers are used to measure displacements across the width or diameter of a test specimen. They are commonly used for the measurement of Poisson's ratio and transverse strain on anisotropic materials such as composites. A special version is available for determining "r" value of sheet metals.
Replacement Knife Edges and Clips
A range of optional parts and replacement parts are available for extensometers. Replacement knife edges can be used when existing ones become worn or damaged. Optional clips allow different specimen sizes to be tested.
Calibrators
Extensometer calibrators are used either where an extensometer does not feature electrical calibration or when a manual verification of the output is desired.
Accessory Catalog
Find even more extensometers in our 7th Edition Accessory Catalog, in addition to accessories for extensomters, such as knife edges, clips, connecting cables, and more.